Older and Wiser - a practical guide to commissioning, developing and operating age friendly homes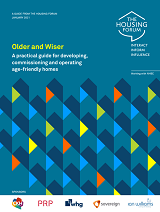 This guide by The Housing Forum looks to address society's failure to provide suitable homes for the ageing population by setting out a range of practical suggestions with 16 case studies demonstrating diverse solutions and inspired thinking.
Supported by the Housing LIN, the guide shows how housing associations, local councils and private developers who may be looking to develop specialist housing for the first time, can deliver greater numbers and a wider range of accommodation to meet the needs of older people. It provides useful tips on how to plan, design and deliver better and more suitable housing provision will enable people to live more independently for longer.
Commenting on the new guide, the Housing LIN's Jeremy Porteus stated:
"This is an impressive document and we were delighted to be involved in this collaboration. It offers extremely useful data and analysis on the diverse state of the senior living market, with reference to relevant housing policy developments, latest design considerations and innovative practice. I particularly like how the matrix approach forms the backbone of the guide, providing the framework for the five excellent chapters and helping to extract the key learning from the case studies."
Talk to us if there are any aspects that you want to learn from or require assistance to help shape your housing offer for older people. Click here for more about our consultancy services.