Now is the time: A report by the CSJ Disability Commission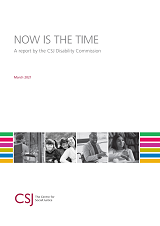 Ahead of the upcoming National Strategy for Disabled People, the Centre for Social Justice Disability Commission has published a report with ambitious and transformational recommendations across a range of goods and services sectors, including a section on housing and references the Housing LIN in a couple of places (Part 1, Section 4).
The report states:
"Without radically changing our approach to accessible housing, we are likely to continue to fail to provide for our population's needs."
The Commission calls for a three-pronged approach:
Firstly, the adoption of a cost-effective approach to ensure that new builds are accessible and meet the needs of the population.
Secondly, tackling the existing inaccessible housing stock. It highlights that three quarters of the current housing stock in England was built before 1980, of which 727 homes are inaccessible.
Thirdly, whilst the supply of housing pre-determines most of the options in this chapter, it is imperative that once this is fixed, consideration must be given to how to best allocate accessible housing.