Neighbourhoods of the Future: Creating a Brighter Future for our Older Selves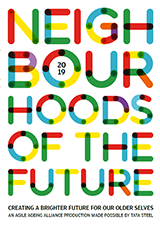 Agile Ageing Alliance asked expert stakeholders what, in an ideal world, our homes and neighbourhoods could look like in 10 to 20 years, and what steps must be taken now to disrupt the status quo and make their vision a reality?
Neighbourhoods of the Future 2019 captures the thoughts and predictions of a veritable `who's who' of distinguished experts and emerging thought leaders. In these pages, you will discover novel concepts for disrupting construction, finance, social and business models.