NIHR SSCR Summary Briefing: Provision of social care in extra care housing: the ECHO study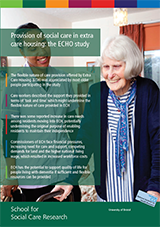 The ECHO project was a two year study funded by the Department of Health (DH), National Institute for Health Research (NIHR) and the School for Social Care Research (SSCR). The project was a collaboration between the School for Policy Studies at the University of Bristol, the Association for Dementia Studies at the University of Worcester, the Personal Social Services Research Unit at the University of Kent, and the Housing Learning and Improvement Network.
This briefing summarizes the key findings from the project. In particular, it demonstrates that the extra care model of housing continues to offer flexible care and support to older people and plays a valuable role in contemporary adult social care policy and practice. In addition, it found that residents of ECH valued the ability to vary the care and support they received, on a permanent or temporary basis, depending on their changing needs. They also valued the communal facilities and social activities offered in ECH. However, not surprisingly given the financial pressures facing adult social care, the findings suggest that this model of housing with care is under pressure, particularly in settings supporting publicly-funded residents.
To view the YouTube films accompanying the project, click on the links to the films below.