Moving on: could later living be the answer to the housing crisis?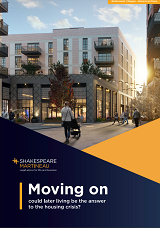 Research by Shakespeare Martineau shows that the majority of people believe that rightsizing to a home that better suits their needs is either unaffordable, reserved for the point of health crisis, or simply a 'problem for when I'm older'.
Data collected from more than 200,000 'general needs' social housing rental properties showed that people aged 65+ are the most likely to be living in a home with more bedrooms than they need.
The research also delves into attitudes of older people toward later living and rightsizing and the results show that the public is still confusing retirement living with care homes and all the negative connotations that come with this.
With proven benefits to the housing sector and NHS cost-savings, the paper calls for government to invest proactively in the later living sector using policy levers, planning reform and funding incentives to help market it properly and create demand.