Mental health and housing: The feasibility of calculating an investment case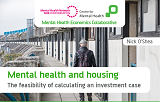 This briefing by the Centre for Mental Health, in partnership with the NHS Confederation's Mental Health Network, sets out an evaluation framework using a variety of measures which could be adopted by health and housing providers to demonstrate the positive business case for supported housing services.
The briefing finds that existing evaluations have only conveyed some of the benefits delivered by these schemes. It offers a worked example of an investment case to convey what could be presented with further data.
This could incentivise investment in these alternatives to acute beds, with the ultimate ambition of improving patients' lives and reducing the costs of care. It also recommends that housing and health providers reflect on the evaluation framework and the resulting investment case that could be calculated.