Mental Health Crisis Care Concordat: Improving outcomes for people experiencing mental health crisis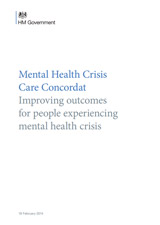 In February 2014, a number of national organisations involved in health, policing, social care, housing, local government and the third sector came together and signed the Crisis Care Concordat (opens new window).
It sets out how organisations will work together better to make sure that people get the help they need when they are having a mental health crisis. The work of the Concordat has been centre stage of a summit held on 24 November 2015 (see link below).