Melfield Gardens, Lewisham - an intergenerational housing scheme for older people and students, designed to a Passivhaus standard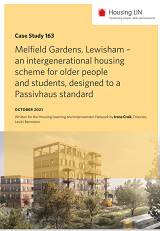 This Housing LIN case study (no 163), written by Irene Craik, Director at Levitt Bernstein, explores Melfield Gardens in Lewisham. Winner of a 2021 Housing Design Awards, these 100% affordable homes for Phoenix Community Housing combine intergenerational living with HAPPI principles whilst targeting a highly sustainable Passivhaus standard.
Levitt Bernstein and Phoenix Community Housing are committed to community engagement and communication to support the transformation of Melfield Gardens, and the co-design was especially important due to the proximity of Phoenix's Millcroft House and the Melfield Gardens houses. The consultation process was a success, with an initial event held for adjacent residents in March 2019, followed by a wider event in July 2019, and a final public event in January 2021.
This development also prides itself on its intergenerational and age friendly design. Jim Ripley, Chief Executive at Phoenix Community Design, said:
"It's vitally important that we don't just build new homes but homes that contribute to the battle against climate change and well-designed schemes that create places where people are proud to live. There's a huge demand for affordable housing both for older people and for students. The new development at Melfield Gardens will help to meet the need for both and offer a place where different generations can mingle and support each other. I can't wait to see them being built."
This Housing LIN case study also details the lesson learned and next steps.