Measuring ageing: An introduction to the Ageing Better Measures Framework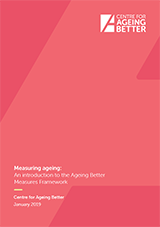 The Ageing Better Measures Framework (ABMF) was developed to help individuals and organisations working in this area to access and utilise some of the most high-quality measures, scales and data sources looking at outcomes at the individual level.
It is intended as an accessible tool for anyone who is interested in ageing-related data or evaluation of ageing-related activities.
The ABMF is a versatile tool that is useful for a variety of audiences from the private, public and voluntary sectors.