Managing the Transition to Digital Telecare: A Guide to Engaging Your Staff with the Technology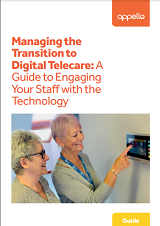 Appello, the UK market leaders in digital telecare, have put together a guide to help you see the maximum benefit or return from your investment in digital technology including, digital telecare.
Covering the importance of engaging your staff early in the process and how to overcome barriers to engagement, plus what to focus on to generate staff buy-in for moving to digital telecare, this guide provides tips for planning an engagement programme and what you need to consider before, during and after the implementation of your new digital telecare systems.
Specifically, this guide looks at how you can engage your staff with digital technology, covering:
Why your staff need to be part of the drive to go digital
The importance of engaging your staff early in the process
Overcoming barriers to engagement
What's in it for your staff? Generating their buy-in for digital tech
Planning a programme to engage staff
How to keep your staff engaging with digital telecare
Digital telecare is becoming the industry standard. As housing providers begin the process of digital transformation, it's important to make sure that your staff are with you at every step of the journey.