Making Sense of Home Among Ethnic Minority Older Adults: Experiences of Aging in Place Among the Turkish Community in London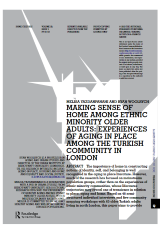 The importance of home in constructing notions of identity, self, and belonging is well recognized in the aging in place literature. However, much of the research has focused on mainstream population groups, rather than on the experiences of ethnic minority communities, whose lifecourse trajectories may reveal one of transience in relation to place, aging and home.
Published in The Journal of Architecture, Design and Domestic Space, this paper from Melisa Yazdanpanahi and Ryan Woolrych of the Urban Institute at Heriot-Watt University aims to provide insight into how the home is negotiated and understood by older Turkish migrants.
It reveals three interrelated themes important to the narratives of older Turkish people: "Home as a reflection of identity and self", "Home as a social and cultural place" and "Transnationality, mobility and home".