Making Housing Affordable Again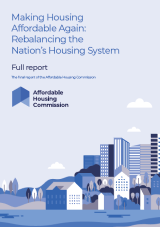 This report from the Affordable Housing Commission on new research around housing affordability in England.
Chaired by Lord Best, it features 10 key recommendations to politicians, policy makers, and the public relating to improving the affordability of housing in England.
Some of the ten recommendations are:
To recognise the requirements of our ageing population by: providing grants and access to equity to support with financing home improvements, and prioritising retirement housing using planning targets for social housing and using "2 homes for 1" outcomes
To redefine housing affordability by: redefining "social rent" as "low income related rent" (as a third or less of household income for those in the lower half of the income distribution)
To raise housing standards/quality by: introducing a register of PRS landlords and moving towards mandatory standards of management, and funding a Decent Homes 2 programme to raise social housing standards, meeting emission targets and reducing fuel poverty
The report identifies three groups of people with the most housing-related stress: struggling renters, struggling homeowners and struggling older households. The report has a specific sections on housing for older people on low incomes and it finds that there is difficulty for older homeowners to pay for home improvements or to move to more suitable accommodation - both being a bigger source of stress than mortgage payments.
It highlights that roughly 1 million older people have an affordability problem. The AHC also looked into downsizing and recommends that the government takes on board proposals from the APPG on Housing and Care for Older People to offer better advice and incentives to downsize, and improved design standards; and consults with councils on setting targets in local plans to provide more and better housing for older people.