Loneliness beyond Covid-19: Learning the lessons of the pandemic for a less lonely future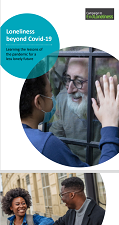 The Loneliness Beyond Covid-19 report by Campaign to End Loneliness reviewed the impact of COVID-19 on UK loneliness.
It found that Covid-19 exacerbated existing inequalities, meaning that groups already at risk of loneliness – such as those who were poorer, in worse health or from ethnic minorities or LGBTQ+ communities – were at greater risk during the pandemic. Furthermore, people who were already lonely before the pandemic, were likely to become even more lonely.
The report looks at the experience of loneliness during the pandemic, explores what we can expect in the future and how to address this, and how we can 'build back better' for connection.
A number of recommendations are made at the national and local levels to ensure the structural shift in demand for loneliness support is met, and the opportunities to reduce the risk of future loneliness is taken:
The government should ensure sufficient funding to meet the increased demand for support from 'connector services' such as social prescribing.
The government should work to tackle health inequalities and improve population health – led by the Department for Health and Social Care, working with departments, funders and commissioners at national and local authority levels.
Places and groups at particular risk of loneliness should be prioritised in funding allocations and when investing in social prescribing and other support for loneliness.
Services should build on the proactive approaches to identification and engagement taken during the pandemic, drawing on data about risk factors and trigger events.
Organisations providing or funding loneliness services should sustain the generous and flexible approaches to collaboration that characterised the pandemic response
And, the prime minister should task the cross-departmental ministerial group on loneliness with identifying opportunities to build a connected recovery, that incorporates measures to support connection into strategies for post-Covid recovery across government.