Location, location, location! Hare Hill, Littleborough in Rochdale: The perfect location for extra care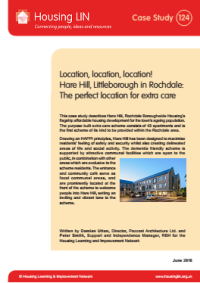 This Housing LIN Case Study no 124 describes Hare Hill, Rochdale Boroughwide Housing's flagship affordable housing development for the town's ageing population. The purpose built extra care scheme consists of 43 apartments and is the first scheme of its kind to be provided within the Rochdale area.
Drawing on HAPPI principles, Hare Hill has been designed to maximise residents' feeling of safety and security whilst also creating delineated areas of life and social activity. The dementia friendly scheme is supported by attractive communal facilities which are open to the public, in combination with other areas which are exclusive to the scheme residents. The entrance and community café serve as focal communal areas, and are prominently located at the front of the scheme to welcome people into Hare Hill, setting an inviting and vibrant tone to the scheme.
And to also learn about how technology enabled care and access control in the specification for Hare Hill has helped to maximise residents' feeling of safety and security, whilst helping them to maintain or improve their independence, read Connected Care and Health solutions in extra care (opens new window).