Local Area Co-ordination in Derby: Evaluation report 2018 - 2021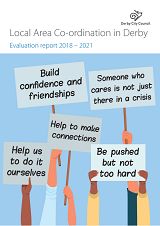 The aim of this evaluation report, published by Derby City Council, was to reveal how Local Area Coordination (LAC) is a practical assets-based approaches that can helps to reform and support local health and social care systems, benefiting citizens, services and finances in Derby.
This report reveals that LAC work supports residents to feel:
less isolated and more connected to family & friends
more supported and better able to cope with family life
more confident about their future
Better able to contribute to community life
More connected to their local community
More confident to make their own decisions
In control of their financial situation
Safer and happier in the place that they live
Ready to take part in education, volunteering and work
Less reliant on crisis and specialist services
More in control of their health and what keeps them well
Whilst also reducing:
Visits to GP surgery and crisis services
Dependence on health and social services
Health inequalities
Safeguarding concerns around isolated people
Evictions and costs to housing
Harmful behaviours
Costly packages of care
Building on previous local and national evaluations, this report assesses the impact of LAC against the outcomes expected within the local Theory of Change. The approach taken also forms a baseline against which LAC in Derby can be assessed in the near future whilst identifying areas for further research and investigation for ongoing learning and continuous improvement.