Living Digitally – An evaluation of the CleverCogs digital care and support system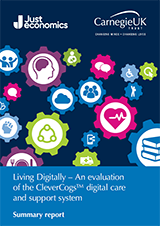 Across the world, the costs associated with health and social care needs for older people are expected to rise considerably in the coming years.
This is driven by several demographic trends including increased longevity, more complex and costly health problems in old age, demand for better, more personalised care and changes in the dependency ratio (the ratio of working age to older people).
Harnessing digital technology to support existing carers and over time, provide care directly to people, provides an opportunity to help address these challenges. It is anticipated that the successful deployment of technology in the delivery of health and social care can deliver a range of benefits:
• A greater number of options in how people live in old age
• Improvements in health and quality of life of the older population
• Reductions in the costs of delivering care
• A reduced burden on families and informal carers.