Leasehold Plus: The next step for home ownership in IRCs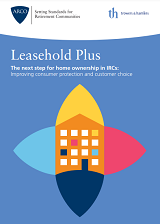 ARCO has published radical new proposals for the future of home ownership in the Integrated Retirement Community sector.
At a time of heightened debate on the future of leasehold, their proposals for 'Leasehold Plus' represent a bold, but practical, vision for further enhancing consumer protection.
The Leasehold Plus model would:
Extend the reach of consumer protection so that – uniquely in the UK property sector - every sale of a unit in an Integrated Retirement Community scheme is subject to full protection under consumer law
Improve dispute resolution mechanisms, including extending the remit of Ombudsmen
Include flexibility to tailor leases, enabling them to be kept up to date and respond to changing customer preferences.
Alongside this report, they have produced an accessible policy briefing (opens new window) on Leasehold Plus, as well as a one-page fact sheet (opens new window).