Learning Disability Tech Landscape Review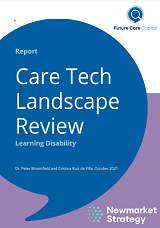 This report explores those start-ups deploying technological solutions in England and the benefits they bring to users, carers, and health and social care, particularly post-COVID.
This report, the Learning Disability Care Tech Review, identifies:
The major opportunities to improve health and social care provision for adults with learning disabilities in England through the use of technology.
There are comparatively few technologies that are specifically for adults with learning disability, and there is a bias for technology development in paediatric and educational settings.
There is a risk that the learning disability community may be left behind.
It also points out that multi-stakeholder approaches to technology development have already been proven to be successful, and that there is also scope for the new Centre for Assistive and Accessible Technology announced in the National Disability Strategy to act as a broker to facilitate relationships between innovators, carers and individuals with learning disabilities.
The key findings demonstrate the size of the market, locations of companies developing solutions and quantifies the available information about investment in solutions.