Learn to Innovate – European lessons on designing for ageing well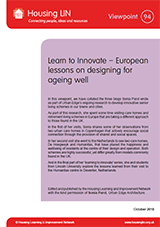 In this Housing LIN Viewpoint (no 94), we have collated the three blogs Sonia Parol wrote as part of Urban Edge's ongoing research to develop innovative senior living schemes in our towns and cities.
As part of this research, she spent some time visiting care homes and retirement living schemes in Europe that are taking a different approach to those found in the UK.
In the first of her visits, Sonia shares some of her observations from two urban care homes in Copenhagen that actively encourage social connection through the provision of shared and social spaces.
In her second visit she went to the Netherlands to see two care homes, De Hoegweyk and Humanitas, that have placed the happiness and wellbeing of residents at the centre of their design and operation. Both schemes are highly successful yet differ greatly from models commonly found in the UK.
And in the final part of her 'learning to innovate' series, she and students from Lincoln University explore the lessons learned from their visit to the Humanitas centre in Deventer, Netherlands.