Later Life in the United Kingdom 2019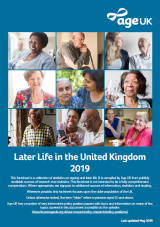 This factsheet from Age UK is a collection of statistics on ageing and later life.
It is compiled by Age UK from publicly available sources of research and statistics. It is not intended to be a fully comprehensive compendium. Where appropriate, they signpost to additional sources of information, statistics and reading, including a section on housing.