Landscape Design Principles for Dementia Care (2nd edition)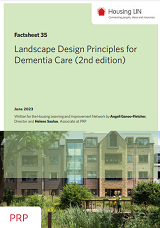 This updated Housing LIN Factsheet (No. 35), written by Angeli Ganoo-Fletcher, Director, and Helene Saulue, Associate at PRP, emphasises the crucial role of well-designed landscaped gardens in enhancing residents' quality of life. It highlights their potential to promote physical and mental health, while also mitigating the impact of cognitive decline.
The Factsheet advocates for landscape design that is informed by the latest research on sensory and cognitive impairment. It puts the focus on the importance of creating safe, attractive and engaging environments that are accessible and user-friendly for older and disabled individuals.
Specifically focused on landscape design for housing in the care sector, the Factsheet also outlines fundamental principles to consider when designing for individuals with dementia, their families and care providers. It also highlights the significance of landscape design within the NHS for people with dementia.
This Factsheet is an invaluable resource for all stakeholders involved in the design and development of housing for older individuals with cognitive and sensory impairment. It is particularly relevant for commissioners, planners, designers and developers who are keen on creating effective and captivating landscapes that support the physical and emotional well-being of residents.