James: Sight Loss Personal Story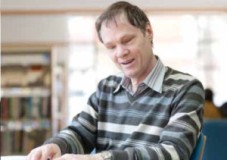 James has the eye condition retinitis pigmentosa which, among other things, results in him having difficulty seeing in the dark. His sight is gradually deteriorating and he now has limited useful vision. He lives in a two bedroom ground floor flat.
A Rehabilitation Officer (ROVI) from the local authority carried out a lighting assessment and arranged for some lighting improvements to be undertaken in conjunction with James' landlord, a housing association.
Before the adaptations, the lighting in the living room was provided by two pendant lights with 60 watt lamps and shades. These were replaced with circular LED luminaires, which give a high level of illumination. No dimmers were provided but James says this is not an issue for him. He needs the maximum amount of light and often has the lights on during the day, unless it is very bright outside. In the hallway, the lighting was originally two baton fittings with shades. These have also been replaced with the same luminaires as were fitted in the living room.
James says he can see far more in the living room and hall than he could with the previous lighting. He describes the new lights as 'very helpful and really good'. His Rehabilitation Officer is now arranging for the lighting in the two bedrooms to be replaced with similar circular LED fittings which will improve James' ability to carry out activities in these rooms. He is also getting brighter external lights by the front door to his flat and additional lights on the pathway outside.