Inspiring new housing choices for older people in Walker, Newcastle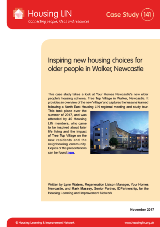 This Housing LIN Case Study no 141 takes a look at Your Homes Newcastle's new older people's housing scheme, Tree Top Village in Walker, Newcastle.
It provides an overview of the new 'village' and captures the lessons learned following a North East Housing LIN regional meeting and study tour. This took place over the summer of 2017, and was attended by 40 Housing LIN members, who came to be inspired about later life living and the impact of Tree Top Village on the new residents and the neighbouring community.
Walker is a post-industrial community, which has been devastated by the demise of coal and heavy industry and the collapse of shipbuilding and power generation manufacturing. Numerous initiatives to regenerate the area over the last 25 years have struggled to arrest the decline. Tree Top was designed to become the centre piece of the wider Walker Regeneration Programme. The programme is part of a wider project which has seen Newcastle City Council investment in a new school, new retail amenities, and this attractive, new residential accommodation for older people.
Check out the Housing LIN's Designing for Extra Care Housing (opens new window) video in their 'Spotlight on Extra Care Housing' series, for a look into the design process of the Tree Top Village.