Including Technology in Long Term Strategy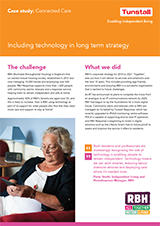 RBH (Rochdale Boroughwide Housing) is England's first co-owned mutual housing society, established in 2012 and now managing 13,000 homes and employing over 560 people.
RBH Response supports more than 1,600 people with community alarms, telecare and a response service, helping them to remain independent and safe at home.
Approximately 42% of RBH's tenants are aged over 55, and this is likely to increase. How is RBH using technology as part of its support for older people who find that they need more care and support to stay at home?