In Focus: Experiences of older age in England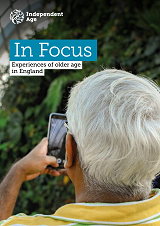 This policy report by charity Independent Age explores the reality of life for older people whose voices can be less often heard in debates about ageing and what is important for people in this age group.
It focuses on the experiences of specific groups of older people: people with mental or physical health conditions; people providing informal care; Black, Asian and Minority Ethnic (BAME) groups; people on low incomes; and people without children. Key findings are grouped around 6 themes as follows:
Ageism: Overarching assumptions and stereotypes about older people persist and have a significant negative impact.
People can have limited expectations of their own lives now and in future, and of the support they are entitled to.
Vital social connections that can combat loneliness and ensure people are supported in many different ways are often fragile. Strong social connections was the number one indicator of living a good life.
There was a strong sense of a loss of choice or control in aspects of people's lives, and there were examples of how precarious people felt their lives were.
The challenges older people face overlap and are interconnected, with one problem often leading to another.
Certain protective factors can help people to build and maintain their resilience and wellbeing, including maintaining social connections and/or volunteering.