Housing associations, home adaptations and independent lives: Finding ways to say yes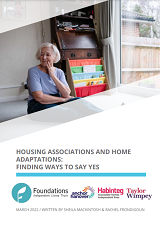 Published by Foundations, the national umbrella body for home improvement agencies in England, in partnership with Anchor Hanover, Habinteg and Taylor Wimpey, this paper provides guidance on delivering home adaptations in social housing, including how local authorities and housing associations can work better together.
Written by Sheila Mackintosh and Rachel Frondiguon, the guide proposes a different way of handling DFG applications. It begins by laying out the current financial, legal, regulatory arrangements and the duties placed on different organisations involved in funding and delivering adaptations. It then looks at why social housing is so important for disabled people, the nature of the housing stock, the needs of different groups, and the importance of prevention.
The report goes on to discuss the complexities of the funding situation, from both the housing association and local authority perspective, and the options for reform.
The adaptations delivery process is also examined, looking at the barriers to effective operation, and how the customer pathway might be improved. When home adaptations are not possible, or not allowed, people need to move and often require help to find a suitable home. The problems are outlined, and ways of providing more effective services explored.
The final section looks at how to bring about change, including the employment of more disabled staff, better data about disabled and older tenants, co-production of services, more measurement of outcomes, and how associations might develop more joined-up and inclusive housing policies.
Lastly, the guide provides a range of useful recommendations for associations, local authorities, central government, and the Housing Regulator to sort out the confusion about funding and improve the speed and effectiveness of home adaptations delivery. These are backed up with practical solutions to put disabled and older tenants at the heart of decision making, an inclusive approach to services, and for home adaptations to be part of the new customer-focused inspection regime.