Housing as a social determinant of health: evidence from the Housing through Social Enterprise study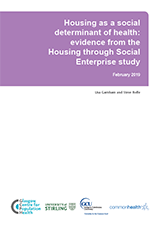 This report outlines the findings of the Housing through Social Enterprise project.
This was a three-year ESRC/MRC-funded piece of research, led by Glasgow Caledonian University and carried out by the University of Stirling in collaboration with GCPH. It explored the potential role of social enterprises in protecting and enhancing the health of low-income and otherwise vulnerable households in Glasgow.
This research followed over 70 tenants in both the social and private rented sectors as they embarked on a new tenancy. The report outlines the project's rationale, methodology and findings. The findings centre on the importance of tenants' being able to establish a sense of home in their tenancies. This, in turn, underpins impacts on their health and wellbeing.