Housing LIN signs up to joint HoME Coalition letter to the Housing Minister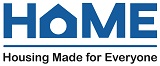 A coalition of ten organisations from across the housing and charity sectors, including the Housing LIN, is calling for the government to resist calls to relax planning regulations, warning that this could lead to an even greater shortage of accessible housing across the country. In an open letter to the Housing Minister, Christopher Pincher, dated 29 June 2020, the Housing Made for Everyone (HoME) coalition is asking the UK government to raise the 'accessible and adaptable' design standard set out in volume 1 of the Building Regulations so that M4 Category 2 becomes the mandatory baseline for all new homes.
Figures suggest there are already 1.8m people with an accessible housing need – and this number is only going to grow. And, it warns that relaxation of planning rules will lead to a serious shortage of accessible homes, as follows:
Proposals from housing developers to relax planning rules would exacerbate the UK's existing shortage of homes that are safe and suitable for older and disabled people, leading housing, ageing and disability charities warn.
By 2030, there will be just one new accessible home built for every 15 people over the age of 65, despite the fact that the UK is undergoing a massive demographic age shift. Looser planning rules will make this shortage more acute, the organisations say.
The Housing Made for Everyone coalition is calling on housing developers to build more homes suitable for all ages, with research showing that most people want to remain in their homes as they get older
Find out more about the HoME Coalition and its 7 point charter on the accessibility pages on our online 'Design Hub' here.