Housing LIN Newsletter November 2015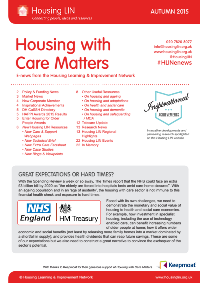 Ahead of next week's Spending Review, we are pleased to bring you the autumn edition of our quarterly newsletter, 'Housing with Care Matters'. In this bumper issue, we bring you:
the latest policy and funding news relevant to those working across housing, health and social care (p2)
key market insight on the state of housing and care (p3)
a couple of #Inspirational Achievements by Central & Cecil Housing Trust and Pozzoni Architects featured on our website (pp4&5)
an update on the online directory of DH funded schemes, including latest Phase One site uploads (p5)
a review of this year's Housing Design Awards HAPPI winners (p5)
details of how to ender EAC's Housing for Older People awards, supported by the Housing LIN - deadline Friday, 27 November (pp5&6)
our range of new resources, including the refreshed factsheet, Extra Care Housing: What is in 2015?; latest Care and Support Policy Technical Brief; and a selection of case studies, blogs and viewpoints (pp6&7)
a range of other new resources and research on housing for older people, housing and adaptations, health and social care, housing and dementia, telecare and safeguarding/MCA issues and (pp8-13)
our extensive regional updates from England, Wales and Scotland with reports on our latest activities, new reports and intelligence of who's doing what (pp14-21)
links to our forthcoming event with Design Council CABE on Friday, 4 December (p22)
our link to this issue's poem by Brian Wilks, and
we remember Tim Hind and David Gardiner who both passed away in recent months.
Stay connected with us for the latest news, views and comments, and find out where you and your colleagues can get involved with the Housing LIN. You can also network with us on Twitter at @HousingLIN

We are grateful to Keepmoat for their support of this issue of Housing with Care Matters