Housing LIN Catering Research Report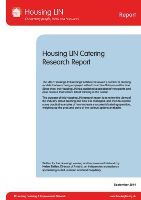 The 2007 Housing LIN Catering Factsheet reviewed a number of catering models that were being employed within Extra Care Schemes at the time. Since then, the Housing LIN has published a selection of viewpoints and case studies that feature latest thinking in the sector.
The purpose of this Housing LIN research report is to review the views of the industry about catering and how it is managed, and gives valuable insight into practical examples of how to create a successful catering operation, weighing up the pros and cons of the various options available.