Housing Associations and Home Adaptations: Finding ways to say yes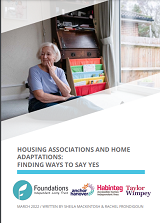 This report, published by Foundations and produced in partnership with Habinteg and Anchor Hanover with support from Taylor Wimpey, provides guidance on delivering better home adaptations in social housing.
Following the publication of the Independent Review of DFG in 2018 (opens new window) Foundations wanted to take a deeper dive into the workings of adaptations for social housing tenants.
And the research identifies:
Good practice
Issues in funding and delivery
Rther than saying 'yes' to adaptations, barriers are often placed in the way
Moving home is not easy if a home is unsuitable or not possible to adapt
Home adaptations lack importance
A lack of disabled people working in the sector
The 'Housing Associations and Home Adaptations: Finding Ways to Say Yes (opens new window)' report provides recommendations for housing associations, local authorities and central government, to sort out the confusion about funding and improve home adaptations delivery.
It provides practical solutions to put disabled and older tenants at the heart of decisionmaking, an inclusive approach to services, and for home adaptations to be part of the new customer-focused inspection regime.