Housing, Ageing + Care: What Manchester's LGBT communities want from the UK's first purpose-built LGBT extra care scheme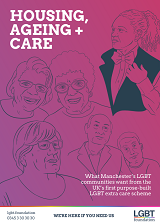 This report by the LGBT Foundation presents findings from their survey asking people about their current finances, their housing situation, their care needs and their thoughts on what an LGBT Extra Care Scheme for Manchester would look like.
It revealed a stark picture in terms of income levels and people's ability to plan and pay for future care, showing that 62% had less than £10,000 saved, including 28% who have no savings; 66% had a pension value of less than £20,000 per year; 43% didn't know where they would get care and support in the future; and 74% didn't know how they would pay for future care and support.
There was also a positive response to the provision of the new LGBT extra care scheme in Manchester, and significant support for housing and social care options that was reflective of, and responsive to people's LGBT identities. It found that 50% said that if they moved into an LGBT Extra Care Scheme they would prefer if it was delivered by an LGBT-specific provider; 74% were interested in moving into an LGBT Extra Care Scheme in the future; and 51% would not be comfortable in retirement housing without specific LGBT considerations.
By way of background, in 2014, LGBT Foundation and Stonewall Housing started discussions with Manchester City Council about developing housing for LGBT people aged 55+. This included two scoping workshops involving older LGBT people themselves in December 2016 and February 2018. Then, in February 2017, Manchester City Council announced their intention to develop an LGBT-affirmative Extra Care Scheme in the city and identified a site in Whalley Range in November 2018.
In April this year, LGBT Foundation secured funding from Homes England for a year-long project to better understand the housing and support needs of LGBT people aged 55+ in Greater Manchester and involve them in strategic planning, including the country's first purpose-built LGBT Extra Care Scheme. We look forward to following progress.