Homes for older Londoners
'Homes for older Londoners' calls for the Mayor to push for more specially build retirement housing to accommodate an expected doubling of the number of Londoners over 85 over the next twenty years.
The Housing Committee report argues that specially designed housing - combining self-contained homes with access to on-site support and care - improve independence and quality of life for residents, reduce costs to the NHS of avoidable accidents and free up much needed family homes.
There are currently around 60,000 specialist housing spaces in the capital and experts predict a further 80,000 could be needed over the next thirty years as London's post war 'baby boom' generation reaches retirement age.
The report calls for better planning to address the growing demand and highlights the benefits - both for residents and society in general - of specialist housing like the retirement communities common in Australia and the USA.
It also urges the Mayor to look at using alternative ownership models, such as co-operative housing, co-housing and other forms of mutual ownership as well as the potential use of GLA land for such communities.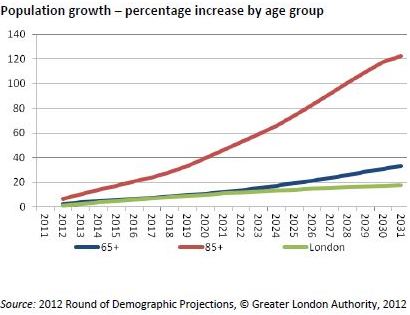 Retirement housing is split between privately owned and publicly-funded, with the majority of older people expected to opt for continued ownership. There is currently a clear disparity between inner and the outer London, with the report highlighting four outer boroughs currently accounting for a third of privately owned retirement homes.
The report also recommends that:
The Mayor start work on planning for what happens after his Care and Support Specialised Housing Fund ends in 2017/18.
The new Health and Wellbeing Boards include local authority housing directors to ensure they help champion joint planning and commissioning.
The report also calls on the Mayor to lobby government for changes to planning regulations to free developers of specialist housing from costs like the Community Infrastructure Levy and Section 106.
See more at: