Homes For Healthy Ageing: Challenges, Opportunities And The Way Forward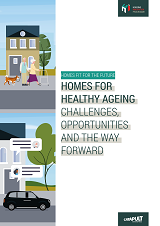 This report by the Connected Places Catapult looks into the multi-faceted nature of both ageing and housing and how both are interconnected. It points to a number of key challenges facing the industry in creating homes that support healthy ageing have been distilled into five themes. These are:
Health and care – how can this be best integrated with later-life housing?
Accessibility and community – what does best practice look like?
Adapting home – what is holding back a faster rollout of enabling adaptations?
Moving home – what are the drivers and drags for the elderly?
Affordability – the challenge of the 'missing middle' of affordable properties.
The report also explores the potential of later-life housing, the benefits of bringing change and related policies and funding, as well as highlighting those innovations that have the potential to address the outlined challenges.