Homelessness Provision for the Future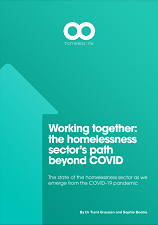 Published by Homeless Link (opens new window), these two reports look at the state of the homelessness sector and best practice as we emerge from the pandemic.
The first, Working Together: the homelessness sector's path beyond COVID describes how the many challenges of the past year and a half have fostered a time of rapid change and growth across homelessness provision in England.
This report explores the common trends and priorities in the sector as we come out of the COVID-19 pandemic, providing valuable insights into the future of homelessness provision. The research includes an online survey with those working in the sector, interviews with sector leaders and information gathering through work with Homeless Link's more than 850 members. The findings and themes discussed herein are further explored in our report, Homelessness Provision for the Future.
Homelessness Provision for the Future, the second report, expands on the themes identified in Working Together by exploring best practice during the pandemic.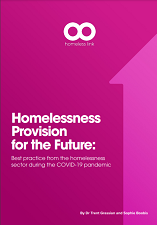 This report highlights many of the key themes in best practice provision across English homelessness services during the COVID-19 pandemic, including fifteen case studies representing faith-based organisations, emergency housing services, supported housing providers, day and resource centres, training providers, local authorities and more.
These include:
A shift from short to long-term homelessness provision.
The incredible challenge of no recourse to public funds provision in tackling homelessness.
While housing is a key part of the solution, holistic approaches are needed.
New opportunities for partnership working led to improve streamlining and collaboration.
Financial strain and innovation.
A focus on reprioritising and refocusing for the future.
It should be read in conjunction with the findings presented in Working together, where research findings are presented in greater detail.