Home to the Unknown: Getting Hospital Discharge Right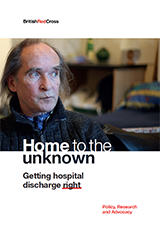 This report from the Red Cross examines patients' experience of discharge from hospital and their transition from hospital to home.
The findings in this report reveal that, despite a wealth of guidance on 'ideal' hospital discharge and examples of excellence and good practice, problems persist.
Discharge processes vary considerably, not just between nations but within even local areas. This research suggests that while patients might appear to be medically fit for discharge, their wider, non-clinical needs can go unmet.
The report includes recommendations to the NHS to improve hospital discharge proceedures.