Home from hospital: How housing services are relieving pressure on the NHS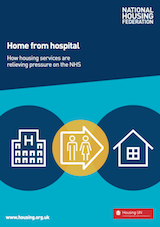 This National Housing Federation case study report showcases 12 examples of schemes where people get the care and support they need outside of hospital wards.
Written by the Housing LIN, it articulates the housing offer and the diverse housing and health services provided by housing associations and local authorities. These include:
Temporary homes for people who cannot return to their own home immediately (known as a "step down" service);
Extra care, and health and wellbeing services;
Home improvements, including safety, sustainability and suitability of homes;
Occupational therapists, telecare solutions and advice on housing options
With over 30% of their residents living with a disability or aged 60 or over, and given the predicted surge in this demographic, housing associations have stepped in to ensure patients are not stuck in hospital longer than necessary. This has freed up the NHS to deliver its services to those who need them most and prevent hospital re-admissions. However, this contribution is often small-scale and localised – and the report highlights what the significant cost-benefits that could be achieved if these services were extended.