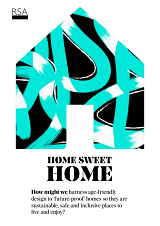 This paper considers how might we harness age-friendly design to 'future-proof' homes so they are sustainable, safe and inclusive places to live and enjoy and forms part of a series of RSA papers in association with the Centre for Ageing Better that form the backdrop to a new student design competition.
The paper provides useful background synopsis of ageing in the UK and the challenges facing housing and an ageing population. It identifies how these challenges can be addressed by:
Adapting and retrofitting: adjusting existing housing to mitigate potential hazards that can cause injury and falls (such as installing grab rails and level access), and
Designing new housing models that are inclusive and fit for all in the future.
The RSA want to see innovative ideas which harness 'age-friendly' design approaches. Proposals that support ageing-in-place from the outset. Homes should be built with the needs of all people who will live in them over their life course (200+ years), not just the first buyer. They do not want you to focus on design proposals that specifically target older people, but proposals that will be appealing to all.
Click here (opens new window) for more about the student competition and awards and timelines.