Home Delivery – Community Led Housing in rural Scotland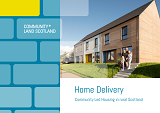 This report by Community Land Scotland, highlights the work carried out by the organisation contributing to the development of affordable housing in rural communities in Scotland.
Case studies are presented throughout the report, one of which shows how a small development of houses can help strengthen a small local community and encourage it to continue growing. The report also contains a summary section on the Savills Report, which highlighted that new models of housing and land-use were needed to develop more rural housing.
Also included in the report are a list of applicants for the Scottish Government's Rural and Islands Housing Fund, whereby the status of the application and the number of homes planned have been recorded.