Healthy foundations: Integrating housing as part of the mental health pathway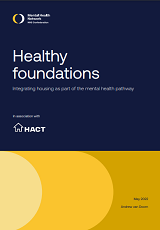 This report, published by the Mental Health Network NHS Confederation, explores the steps needed to achieve a more integrated and strategic approach between health, housing and social care.
In association with HACT, this report reflects on the barriers and enablers to integrating supported housing and housing expertise into mental health pathways. It has been informed by extensive engagement with senior leaders and people with lived and professional experience, who have generously given their time to help us develop solutions to this pressing issue.
With much good practice to draw on across the country, it's important to recognise that more is needed to deliver a strategic and operational environment where integration, collaboration and co-production happen everywhere. This report sets out a set of recommendations for national bodies and local health and care systems and partnerships that they believe will enable a more integrated and strategic approach between health, housing and social care, including:
Homes England should develop a National Supported Housing Strategy, endorsed by NHS England and NHS Improvement, underpinned by long-term investment.

NHS England and NHS Improvement should develop a clear vision and national strategy for mental health and housing.

The cross-government mental health plan currently in development must recognise and propose action on housing, recognising how important it is for good mental health and wellbeing for the whole population.

Development of more consistent and explicit models of supported housing services are needed that are built on good practice, quality and collaboration between people with lived experience and their clinical, supported housing and social care teams.
This publication will be useful to all those with an interest in improving the care of people with severe mental health issues, including clinicians, managers, commissioners, policymakers and politicians.