Health Impact Assessment in spatial planning: A guide for local authority public health and planning teams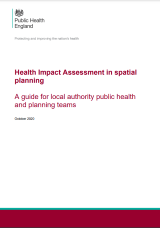 This guide focuses on the use of Health Impact Assessment (HIA) in the planning system. An HIA is a process that identifies the health and wellbeing impacts (benefits and harms) of any plan or development project. As health inequalities continue to widen in England, there is a need to better identify and address the health impact of planning decisions. To help achieve this, Public Health England (PHE) has developed this guide on HIAs for planning in England, targeted towards local authority public health and planning teams, planning applicants, impact assessment practitioners, and others involved in the planning process.
When used in the planning system, HIAs can also identify opportunities to deliver co-benefits across a range of policy areas: better quality housing, particularly in areas where they are most needed, will in the long term improve health outcomes and safer and more inclusive spaces for older people as well as those with a mental or physical health problem will deliver benefits to individual quality of life.
The guide aims to provide local authority teams with the practical information they need to embed HIA in the local planning system and, in doing so, create safer and healthier places. By building more and better homes, PHE hopes that strengthening the use of health impact assessments (HIA) in spatial planning offers local authorities a powerful lever to improve public health and wellbeing, and ultimately reduce inequalities.