Healing the Generational Divide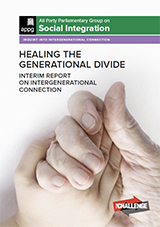 Healing the Generational Divide is the interim report from the Social Integration APPG.
The All Party Parliamentary Group (APPG) on Social Integration launched its inquiry into intergenerational connection in December 2017 to explore the growing age divide and what could be done to bridge it.
The report includes policy proposals for local authorities and central government on intergenerational housing, urban planning, and tackling social isolation.
The Housing LIN submitted written evidence to the APPG's hearings, which you can read by clicking the link below.