Harnessing Technology to Tackle Loneliness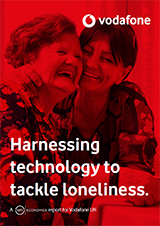 A new report commissioned by Vodafone UK reveals that digital technology can help alleviate loneliness among the over 50s.
It sets out how technology can play a vital role in alleviating loneliness in older people by keeping them connected to their family and friends for longer.
However, it also highlights that a significant number of older people are not confident in using technology, including accessing the internet. The report also looks for the first time at the financial implications of loneliness in the over 50s and reveals a £1.8 billion per year cost to the UK economy.