Handbook for Age-Friendly Communities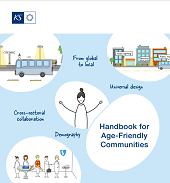 The Norwegian Government has taken the principles of universal design and applied them across all policies to create maximum inclusion since 1999. This makes everyone responsible for inclusion at every level – in the built environment, outdoor areas, transport, and ICT.
Norway's key document for this is Norway Universally Designed 2025. This Handbook for Age-Friendly Communities that presents information in easy to consume formats, therefore fits nicely within that framework but with an emphasis on an ageing population.
The handbook covers the key steps in the planning cycle, aspects to consider in built design, transport, housing and social participation. It includes chapters on 'How to design age-friendly communities' and 'Housing in an ageing society' that highlights:
Development starts with current spaces and facilities
Use the age-friendly lens when planning new projects
The needs of older people as a focus for design
Universal design facilitates an inclusive society where everyone can participate and be active on equal terms, without the need for adaptation or special design.
Location is significant in enabling social connections, access to nature, services, shops, public transport etc
Age-friendly housing in their context is not housing specifically adapted for older people, but housing that is user-friendly and accessible for all ages.
This handbook provides varied examples and case studies of good practice and demonstrates that through strategic planning, cross-sectoral efforts and involving older people, existing initiatives and services can be strengthen, and new age-friendly initiatives that contribute to postponing the need for services and institutions can be developed.