HDRC survey: provisions for people living with dementia in Extra Care Housing settings in the UK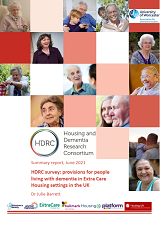 With much debate on whether Extra Care Housing (ECH) facilities provide a suitable environment and service to residents who have dementia, this important new summary report, written by Dr Julie Barrett, explores the provisions, policies and procedures relating to people living with dementia in ECH within the UK.
The models and approaches to the provision of care for people living with dementia in ECH exist with little evidence as to what provisions are in place and what works best.
Therefore, the aim was to present a more comprehensive picture of support available to people living with dementia in ECH, which will enable housing providers to access their current schemes within the wider context and make informed decisions about how best to provide for people living with dementia.
The findings of the survey suggest that an integrated model of dementia care is the most common model used in ECH and that the majority of ECH settings share their facilities with the local community.
Other key findings include:
an average of 16% of ECH residents are living with diagnosed dementia and a further 7% with suspected but undiagnosed dementia.
Almost all settings surveyed had individual care plans and conducted risk
assessments for residents living with dementia, however 20% of the settings did not
carry out individual assessment and reassessment.
most common service provided specifically for people with dementia was information, advice and counselling although this was only offered by just under half of the settings surveyed.
42% of the surveyed settings did not have specific entry eligibility criteria and 90% did not have formal exit criteria.
The most common reason for people living with dementia moving into ECH is for security, followed by social interaction, company, reduced isolation, reduced loneliness in ECH settings, and 24/7 care available.
96% of respondents had received education / training in dementia awareness.
Informed by these findings, the reports outlines recommendations that provisors of housing with care should adopt to better support people living with dementia in ECH.