Grey going green? Longevity for our planet and people through Integrated Retirement Communities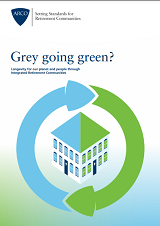 Members of ARCO's expert Advisory Council came together to publish a report highlighting how the Integrated Retirement Community sector can tackle the Net Zero Carbon challenge.
The 'Grey going green?' report (opens new window) includes submissions from nine of ARCO's Strategic Partners and Partners, who all highlight different areas of the Net Zero Carbon agenda, and the steps Integrated Retirement Community operators can take.
The content of the report includes:
Longevity: for our planet, as well as our people
Collaborators
Are you in the race to Net Zero?
Net Zero through offsite construction
Strategic design principles to aid achieving Net Zero Carbon
Learnings from working with IVG on their Net Zero Carbon Strategy
Establishing Net Zero and sustainable outcomes for Integrated Retirement Communities (IRCs)
Offsite manufacturing, use of timber frame and why it should be a consideration for Zero Carbon
Using technology to meet the Net Zero Challenge
Uniting water and carbon savings
How do you make carbon reduction a commercial reality?
Their Chief Executive Michael Voges, who spoke at a Housing LIN HAPPI Hour on Re-framing Retirement: Integrated Retirement Communities, said:
"Our sector's mission of promoting longevity needs to apply not only to older people, but to our planet as a whole. With over 70,000 homes in Integrated Retirement Communities and the sector set for rapid growth, we've got a key role to play in meeting the Net Zero Carbon challenge."