Finding our own way home – a 'big' conversation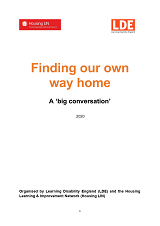 With COVID-19 shining a spotlight into the health and social care inequalities faced by people with a learning disability and/or autism, this important new report - jointly written by the Housing LIN and Learning Disability England (LDE) - outlines the key results from research conducted into the housing opportunities and blockages for people with a learning disability and/or autism.
Using qualitative techniques to gain an insight into people's lived experiences, the research provides the most comprehensive picture to date of their housing needs and aspirations and is essential reading for those wanting to fund, commission, design and/or deliver a better range of independent living choices for people with a learning disability.
Key Housing LIN/LDE findings included are segmented into and include:
What is working well at the moment?

There are now more people in their own home and 'supported living' and fewer people living in residential care
Where Councils have done research about people's housing requirements and have a plan or 'strategy' to provide more housing options, this seems to be helping more people to get a home
What is getting in the way of people getting the home they need and want?

There are still a lot of people who are having difficulties trying to leave 'assessment and treatment units' to move into a home of their own
There are issues about mental capacity and people having a tenancy; sometimes unnecessary bureaucratic processes hold up people being able to have a tenancy
Timescales are a big issue; it can take a very long time from a person starting to plan where they want to live to getting the keys to the front door of a new home
People are often offered a home in an existing property, such as a 'shared house' which may not be suitable for them, often with people they don't know
The lack of housing supply generally in many areas and the lack of affordable housing are a major barrier to people getting the housing they want
What are some of the possible solutions?

There needs to be a quicker and less bureaucratic way of using grant funding from NHS England to develop housing for people who need to leave an assessment and treatment unit
There need to be a much more flexible capital funding system for housing associations to use to develop housing which enables them to get more grant from the Government and be more flexible in the rents that they charge
Getting a home should start with and be based on person centred planning; this is an opportunity for people, their families, housing providers, social workers etc. to come together and plan how to help a person get the home they want and need: 'needs led housing development rather than build and fill'
There needs to be comprehensive information about different housing options, how to access them, how to pay for them etc, that is designed to be accessible to people, their families and carers
There should be a 'national standard' about what housing rights and options people with learning disabilities are entitled to. Local councils should have to meet this standard
The Housing LIN's Ian Copeman, co-author of the report, said:
"We are delighted to be working alongside Learning Disability England in undertaking this research into the housing circumstances and barriers to housing opportunities faced by many people with learning disabilities. We will be using this evidence to support our work with LDE to improve significantly access to a wider range of housing options for people with learning disabilities."
The report is also available in an easy read format and also comes with a couple of YouTube videos.