Fast forward to digital care: Why digital tops housing providers' agenda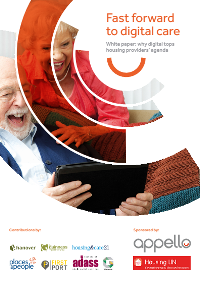 This 'White Paper' by Appello, one of the UK's leading technology-enabled care service (TECS) providers, finds that transition to digital care systems are recognised as critical to success for providers of housing for older people. It reveals that more than half (56%) of housing associations and providers are actively planning to move from analogue telecare, warden and community call systems to digital/IP (internet protocol) solutions.
The report's findings paint a promising picture for the future of digital care technologies with 84% of housing providers agreeing that the adoption of digital will be critical for their future success. In particular, it sets out how the benefits of digital care tie in to housing providers top priorities of improving the customer experience, reducing costs, and creating a better understanding of customers through data and insight.