FREE GUIDE: 'Managing the Transition to Digital Telecare: How to engage your customers'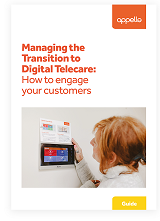 This guide, by Appello, is part of a series focused on managing the transition to digital telecare.
The business case for digital telecare is clear: this offers significant benefits for both your customers and your organisation. As you plan a move to digital, it's important to consider your customers' role in this – and why you need to make customer engagement a key part of your plans.
Any change to your current telecare offering directly impacts those living in your properties. After all, they are the end-users of these services. They may already have personal alarms, such as a pendant, or rely on sensors, such as fall detectors. Whatever telecare equipment they are using to support them in their homes, they understand how this works and are comfortable with it.
Digital telecare can be a whole new landscape for them, albeit one that offers many more advantages. But you will need your customers' buy-in to ensure that your new systems are successful.
Appello have put together a guide to help you, covering when to engage your customers and how your aims with this will change at different stages of the project.
It looks at how to overcome barriers to engagement, plus what to focus on to generate interest and excitement. There are also tips for planning an engagement programme and pitching your communications correctly.