External Review of Disabled Facilities Grant (DFG) and Other Adaptations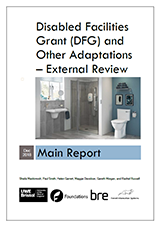 This independent review of the Disabled Facilities Grant (DFG) contains 45 recommendations for the government.
Commissioned by the Department of Health and Social Care and written by the University of the West of England, Foundations, the Building Research Establishment (BRE) and Ferret Information Systems, the review looks at how the DFG currently operates and makes evidenced based recommendations for the future. The aim is to support more people of all ages to live in suitable housing so they can stay independent for longer, and make the case for more joined up action across housing, health and social care.
Sheila Mackintosh, Research Fellow at the University of West of England and co-author of review, said:
"This Review looks at the current way the Disabled Facilities Grant is delivered and how it could be improved to reduce pressures on health and social care. It shows how changes to the home such as providing a shower instead of a bath, installing a stairlift, ramp or rails, or in some cases a downstairs extension, can transform the lives of disabled and older people and enable them to remain independent. But governance needs to be improved, resources distributed fairly and transparently, and services updated to provide faster and more effective solutions in keeping with today's lifestyles."